Spot Shot 2013 - Idea Submissions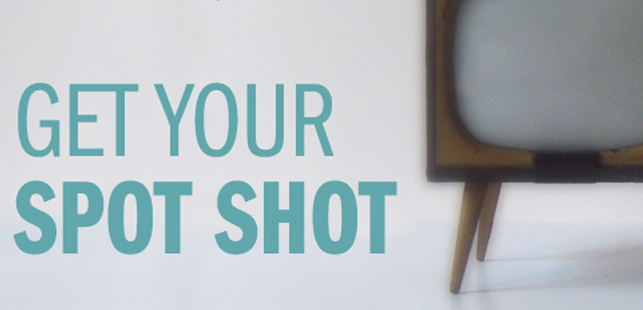 Advertising Art, Copywriting and other Idea Makers are invited to submit their concept and ideas, along with a storyboard and treatment and script. One concept is selected and produced by a select group of media students from the Film & Video and Television department. Students selected will meet with advisors on the project to track their progress with revisions to the script and concept.
Submitting an idea?
Fill out our application
Include storyboards
Treatment or script (if there is dialogue)
---
Application Instructions

To be considered for Spot Shot, you must include all of the following information:

Contact Information: Provide all of the contact information listed on the form. Creatives may apply as a team and share credit for the project as long as contact information is provided for both individuals. Only one application package is necessary if applying as a team.
Project Description: Give a brief summary of the commercial concept and include information regarding the product or brand. You may attach an additional sheet to the application that contains the project description if you prefer to type out.
Special Requirements: Please detail any circumstances, music, locations, talent, props or effects that you feel are crucial to the production of this concept. Keep in mind that you will be working with a limited budget, to be determined by departmental sponsors.
Past Work Samples: Add sample work to your Talent Pool profile and include the link in your application.

Storyboards

No excuses. Provide boards for all key frames that convey your concept. Be sure to include a header on all board pages that lists the product, spot title and your name.

Script or treatment

All applications must include a treatment or script for the commercial. If your concept uses dialogue then you must submit a script. Treatments may be required to be reworked into scripts if selected. Be sure to include a header that lists the product, spot title and your name.

 

Selection Criteria

Basis of Consideration Advertising art, copywriting, or any students with a great idea may submit an idea to be produced as a 30 second commercial. Applications will be evaluated by a committee of professionals in the advertising and marketing communication field. One concept will be selected to move into production.

Selection Criteria Applications are reviewed by a panel of faculty and professionals and are ranked by the following criteria:

Originality
Clarity of the idea
Production practicality

 

Guidelines

Juniors and seniors are eligible to submit their ideas.
Applications must be submitted with storyboards AND a treatment or script (if there is dialogue).
Maximum length is 30 seconds for all concepts.
Students may apply as a creative team.
Completed projects are not eligible for funding.
The winners will work with faculty advisors to ensure their concept is production ready. Any noncompliance in working with advisors may result in disqualification for production.
The winners must be available to meet with the advisory team during the spring semester.
The winning concepts will have access to a budget pre-determined by the sponsoring departments for production costs. Students do not directly receive any money.
The winning concepts will be assigned a production team of film students to direct and shoot the spot.
The funded projects will begin production in May 2013.
The completed projects may be submitted to advertising competitions by the Career Center.

FAQ

1. Do I have to apply as a Copywriting/Art Directing team if Advertising is my major?

No. However, it is highly suggested that if that is your concentration, and the career you are heading to that you do apply that way, as it is common practice for AD/CW to work together as a team.

2. Is my script going to change?

You will be working with the Director to finalize the script and will have creative meetings with the production team and the advisory team to make sure your script is where it needs to be to shoot.

3. What do I get out of this if I participate?

A completed spot for your portfolio, bragging rights and the chance to collaborate with students from other departments.

4. This all sounds really serious. Is there any fun?

Yes. This project is all about fun but we do take it seriously as we want to produce the best spec commercials possible.
Get Your Spot Shot is sponsored by the Career Center and the Marketing Communication department.
General Questions? Contact spotshot@colum.edu