Staff
La'Shon Cannon-Robinson
Student Employment Coordinator
lcannon@colum.edu
La'Shon Cannon-Robinson is the Student Employment Coordinator at the Career Center. She serves as a liaison for students and staff regarding on-campus employment. She proactively helps students with job search strategies--servicing student employees' needs from beginning to end. La'Shon also assists with payroll concerns and issues regarding student employees. In addition, La'Shon manages the Career Center's front desk student employees.
La'Shon's higher education experience spans 15 years, starting in Financial Aid administration. She is dedicated to helping students be successful despite the challenges they face. Outside of work, La'Shon enjoys writing and being a Mom to her three children. She holds a Bachelor of Arts degree in Journalism and English from Eastern Illinois University.
Mariah Cowan
Communications and Marketing Specialist
mcowan@colum.edu
Mariah is the Communications and Marketing Specialist in the Career Center. In this role, Mariah is responsible for event and campaign support, design oversight, managing social media and the blog, and developing and implementing the communications and marketing strategy for the Career Center. After obtaining her Bachelor of Science in Public Relations from Illinois State University, she went on to earn her Master of Arts in Digital Communication and Media from DePaul University. Mariah's lives by Maya Angelou's quote, "My mission in life is not merely to survive, but to thrive; and to do so with some passion, some compassion, some humor, and some style."
Laura Daniels
Assistant Director of Internships and Career Advising
ldaniels@colum.edu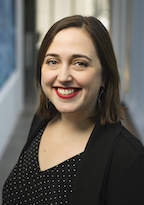 Laura Daniels is the Assistant Director of Internships and Career Advising at the Career Center. As a part of her role, she advises cinema and television students. Previously, she was the External Relations Coordinator for the Interactive Arts and Media Department, where she increased industry relations and student participation in conferences such as the Game Developers Conference in San Francisco and SXSW in Austin. Prior to coming to Columbia, Laura held a variety of positions in the television industry, including working for NBC Universal as an NBC Page, for A&E in development, and on production for My Strange Addiction.
Originally from Wisconsin, Laura spent three years working in New York City before moving to Chicago in 2012.
Erik J. Friedman
Associate Dean of Career Development and Industry Relations
efriedman@colum.edu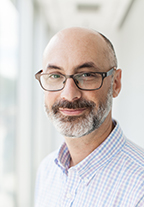 Erik J. Friedman joined the Columbia College Chicago Career Center as Associate Dean of Career Development and Industry Relations in September 2016. Erik came to Columbia from DePaul University, where he worked in the Career Center for the past fifteen years. Prior to DePaul, Erik worked in career development at the Illinois Institute of Technology in Chicago and Slippery Rock University in Pennsylvania. Erik has a passion for designing transformational experiences that help students learn about themselves and succeed in their desired career paths. He is very excited to bring his experience and enthusiasm for career development to Columbia College.
Erik has a B.A. in Sociology from Bowling Green State University in Ohio and an M.A. in Counseling and Educational Psychology with a focus on Higher Education from Slippery Rock University in Pennsylvania. In addition to his professional work, he has been a performing musician in Chicago for the past sixteen years, playing harmonica and guitar.
Jennifer Halperin
Internship and Career Advisor
jhalperin@colum.edu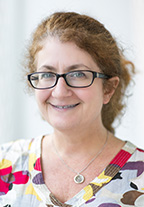 Jennifer advises students in Communication, English and Creative Writing.
Jennifer Halperin was a long-time newspaper reporter and editor before joining Columbia's staff in 2007.  She is eager to help anyone with internship and job searches, or with making connections in their field.
Quinn Hegarty
Internship and Career Advisor
qhegarty@colum.edu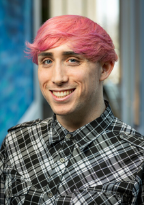 Quinn advises students in Theatre and Dance.
Quinn Hegarty is a multidisciplinary theatre and performance artist with interests in drag, ensemble & devised work, makeup, and visual & wearable paper art. 
As a founding member of the SADHAUS drag theatre collective, Quinn has written, directed, and performed in original productions at Chicago venues such as the Den Theatre, The Frontier (Jackalope), and the 1700 Theatre at Steppenwolf. Additional drag appearances include the Lyric Opera of Chicago and the Foundation Room at the House of Blues. Quinn also creates paper eyelashes, most recently worn by Heidi Klum on her German television series Queen of Drags. 
Quinn is a graduate of Northwestern University with a Bachelor of Arts in Performance Studies. As part of their thesis research, Quinn interned with the Theatre of the Oppressed Paris.
Quinn enjoys connecting Columbia's emerging artists to new professional possibilities within Chicago's vibrant performing arts community.
Melissa Hennessy
Assistant Director, Industry Relations
mhennessy@colum.edu
With a BFA in Photography, Melissa began her career assisting commercial photographers in NYC for four years before shooting on her own for 10 years. During that time, she realized that she really liked the business side of "getting the jobs."  In 2004, she started Hennessy Reps, Inc., where she was fortunate enough to represent some of the best and most genuine photographers and directors in the business nationally, spend time with a great group of clients, and work with incredibly skilled producers and crews.
Melissa took the knowledge of business, communication, marketing, negotiating, social media, and more and run a consultancy for small businesses that are finding their voice and audience and growing their brands.  
A serial freelancer and entrepreneur who takes pride in building and maintaining brands and relationships, Melissa enjoys sharing her knowledge and experience with students to help them build their own confidence and achieve their goals. 
Darlene Jackson
Creative Industry Liaison
djackson@colum.edu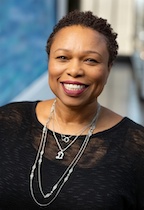 Darlene advises students on portfolios within the Performing Arts, B&E, Music & Fashion departments.
Darlene Jackson, MS, is a Creative Industry Liaison with the Career Center of Columbia College. She is a respected voice in Chicago's creative community. Named "Chicago's House Music Queen" by Chicago Magazine, Darlene aka DJ Lady D, is an internationally traveled DJ, producer, and music publisher who launched her independent record label and marketing brand, D'lectable, in 2004. She first acted professionally in The Marva Collins Story (with Cicely Tyson and Morgan Freeman) and as a renowned DJ has been a featured subject in numerous print, television, and film outlets including the music documentaries Girl, The Godfather of Disco, and Slipcue. In 2016's Disco Demolition: The Night Disco Died (Dahl/Hoekstra), she was one of the featured subjects.
Darlene is a member of the Screen Actors Guild and NARAS. She is a public speaker included on panels for Social Media Week, One City One Book, Millikin University, and has led campaigns for the Chicago Public Library. As a presenter for radio, film, and television, she has written for various media outlets including the Chicago Tribune & Metromix, hosted and produced for Chicago Public Media and Vocalo.org, and worked with NPR and BBC radio shows as a writer and researcher. She also has professional freelance experience in advertising, working with brands such as McDonald's and United Airlines with groups such as Burrell, Gray Direct, Flowers Communications, and Leo Burnett. 
At the Career Center, Darlene works with individuals to uncover their unique assets, identify their skills and plan career strategies that match their passion to their purpose. She curates programming that connects professionals to individuals for opportunities to learn, discover and share knowledge, ideas, and industry best practices. By maintaining relationships that actively create career possibilities in relevant ways, she is a considerable resource to the team.
Tom Joyce
Internship and Career Advisor
tjoyce@colum.edu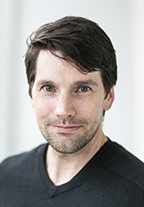 Tom advises students in B&E, Radio, Music, Audio Arts & Acoustics, Science & Mathematics.
Tom Joyce is an Internship and Career Advisor for the Career Center at Columbia College Chicago. In addition to his B.A. in Communications from Columbia College Chicago, he also has a Masters degree in Higher Education Administration from North Park University. Prior to his current position, he spent 23 years as a full-time staff member for the Radio Department at Columbia College Chicago, serving as Internship Coordinator, Industry Relations Coordinator, Event Coordinator, Web Master, and Studio Center Coordinator. He is a 1993 graduate of Columbia College Chicago. As a student, he was Sports Director and Alternative Music Director for the school radio station, WCRX-FM. While attending Columbia and thereafter, he worked as a Voiceover Talent and Production Assistant at both All My Features and Connor Communications in Chicago. Throughout his endeavors in the media industry, he has interviewed a wide range of local and national athletes and musicians and has reported on several important events. Born and raised in Chicago, he prides himself on "Putting students in a position to succeed in experiential learning activities, internships, or employment opportunities."
Adam Polak
Administrative Assistant
apolak@colum.edu
Adam is a creative problem-solver and supervises the front desk as the Career Center's Administrative Assistant. Previously, he has worked in the non-profit sphere for six years in organizations with missions focused on uplifting LGBTQ youth and young people of color, particularly those impacted by homelessness and the justice system. Adam holds a Bachelor of Arts from DePaul University in both Fine Arts and Sociology with a concentration in Criminology.    
When he's not at the Career Center, he works as a freelance visual artist and storyteller. His work has been showcased at the Steppenwolf's 1700 Theater, Flatiron Galleries, and Fulton Street Collective. He continues his professional trajectory of merging art and activism with plans to network with and highlight other emerging transgender Chicago artists.
Chakka Reeves
Internship and Career Advisor
creeves@colum.edu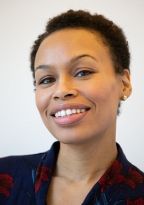 Chakka advises students in Cinema and Television Arts.
Chakka's professional journey started in student affairs, where she worked in residence life and multicultural programs before transitioning to a media career. Before joining Columbia College Chicago, Chakka managed Free Spirit Media's Industry Pathways, where she worked with film, TV, and media industry professionals to provide workforce opportunities to emerging mediamakers from marginalized communities and identities.
As an Internship and Career Advisor for the Career Center at Columbia College Chicago, Chakka provides career readiness and job search coaching for students in Columbia College Chicago's Cinema and Television Arts department.
Chakka received her Master of Education in College Student Personnel from the University of Maryland College Park, and her Bachelor of Science in Psychology from the University of Illinois Urbana-Champaign, where she received Bronze Tablet Honors. When not career coaching or advising, Chakka is a multimedia producer. Her projects include the short film; many short non-fiction video pieces, and the Highwater Podcast, a forum for artists and creatives to share their stories.
Rebecca Reuland
Internship and Career Advisor
rreuland@colum.edu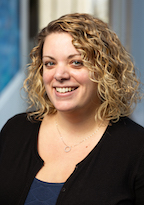 Rebecca advises students in Fashion, Photography, and Art/Art History.
Rebecca Reuland is an Internship and Career Advisor for the Career Center at Columbia College Chicago. She has a BFA in Photography from Columbia and MA in Photography from Sotheby's Institute of Art in London. Rebecca worked for a well renowned architectural photography firm and traveled the US extensively with a large format camera. She also has experience working in museums and archives in Chicago and London.Rebecca has been an arts educator for over a decade serving in various roles such as a teaching artist, mentor and most recently as an adjunct professor. 
Valerie Robbins
Employer Relations Coordinator
vrobbins@colum.edu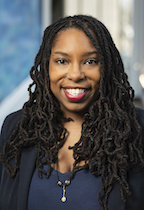 Valerie is a talented creative professional with a Bachelor of Arts in Theatre from Columbia College Chicago. In her role at the Career Center, she maintains Columbia's online job board, ColumbiaWorks-powered by Handshake. She provides training for students, staff, and faculty who need assistance posting jobs and creating accounts. In addition, Valerie assists with payroll processing for student employees.
She is currently working towards her Master of Arts in Inner City Studies at Northeastern Illinois University, with a research focus on Intimate Partner Violence in Black Lesbian and Transwomen relationships.
Outside of work, Valerie is a foodie who enjoys watching anime and being surrounded by artistic people. She works to be the best person that she can be and believes in the words of Booker T. Washington: "Success is to be measured not so much by the position that one has reached in life as by the obstacles which he has overcome while trying to succeed.
Angela Sheridon
Creative Industry Liaison
asheridon@colum.edu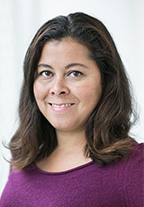 Angela advises students on portfolios within the Cinema and Television and Arts, Interactive Arts and Media, Communication departments.
Originally from the Motor City, Angela began her career at the worldwide ad agency, BBDO Detroit where she worked in the broadcast production department, assisting on television and radio commercials. During her time at the agency, some of the most influential commercial work had been accomplished by some of the world's most renowned filmmakers.
A few years later, she went on to further her education and moved to Chicago to enter Columbia College Chicago's film production program. Concurrently, she lined up a job representing visual media artists for commercials, including the creative digital agency Digital Kitchen. She represented directors such as Michel Gondry, Traktor, Jesse Dylan, Chris Applebaum, and Antoine Bardout-Jacquet. It was a very dynamic time in her career, but with her goal of pursuing a role in production, she then moved to LA to work with companies such as Hungry Man, Radical Media, and Tool. 
Achieving her goal on the West Coast, Angela made her way back to the Windy City and was introduced to the business of public relations, rounding out her background in advertising and commercial production. This work brought about her experience in PR for several acclaimed companies, including Backyard, Supply&Demand Integrated, and Harpoon Pictures. 
Angela joined the Career Center at Columbia College Chicago in 2014. As the Employment Coordinator and now a Creative Industry Liaison she's forged connections with the visual and performing arts communities and advocates on behalf of Columbia College talent. She's also led the development of employment recruitment programs that bring together employers, students, and alumni. Having sustained strong, working relationships, throughout her career, she continues to be involved with her widespread network in the on-screen media, commercial, advertising, film, video, digital content, film, and broadcast production industries. She feels that finding relevant opportunities for students and helping to match up employers with Columbia talent has by far been her most gratifying work.
Brian Socall
Assistant Director, Career Development
bsocall@colum.edu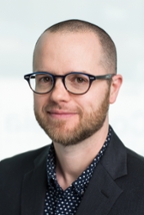 Brian supports students in their career development: connecting their skills and interests to future work and becoming professionally prepared for their careers.
Brian is a career development professional and experiential education specialist and trainer. His work in the Career Center is focused on supporting students in their career development: connecting their skills and interests to future work and becoming professionally prepared for their careers. He comes to Columbia from Chicago Scholars where he was the Director of College to Careers for almost three years.
Prior to that, he worked for seven years with buildOn, an international youth development and education organization where he managed youth programming in a dozen Chicago Public High Schools (CPS); led teams of CPS students to build schools on three continents; and created leadership, mentoring and career services programs.
After college, Brian completed a 2-year Peace Corps assignment in a small fishing village on the Caribbean in Nicaragua and upon his return to the U.S., he helped start an international travel and social justice awareness not-for-profit, while also working in psychiatric hospitals with adolescents.
Brian is an avid traveler and cook and has two young boys who would prefer to simply live outside than with him and his wife. He holds a Bachelor's degree in Psychology and Master of Arts in Social Justice.
Jo-Nell Sieren
Internship and Career Advisor
jsieren@colum.edu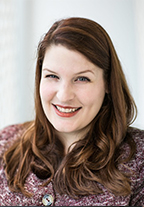 Jo-Nell advises students in Design and Interactive Arts Media (IAM).
Jo-Nell Sieren is an Internship and Career Advisor for the Career Center at Columbia College Chicago. In addition to this role, Jo-Nell is Adjunct Faculty for both Design and Photography departments. Jo-Nell also mentors and directs a small group of students each semester who create Frank Magazine, a digital publication available from the Apple App Store and created with Adobe Digital Publishing Suite (DPS). Jo-Nell is a graduate of the School of Visual Art in New York City, and her professional background includes working as a Photographer, Designer, Assistant Gallery Director, Curriculum Director and Instructor for a children's art program. As an Advisor, she works with the students majoring in Photography, Design, Art, Art History and Interactive Arts Media (IAM).

Jo-Nell currently lives in the West Loop with her husband, toddler, and fuzzy dog.
Eric Wordlow
Assistant Director - Student Employment
ewordlow@colum.edu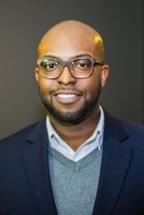 Eric began his career in Student Employment while working as a student employee throughout graduate school. He had an incredible start to his career by being exposed to various facets of student employment. Before joining Columbia in 2015, he worked for a higher education system school that gave him the opportunity to oversee student employment efforts at four schools in seven cities. Eric considers himself a student employee activist, and he stands firmly in the belief that student employment is a solid career development opportunity for students to enhance their personal, professional and creative growth.
As the Assistant Director of Student Employment, Eric oversees student employment programming, advocates for the role of student employment, and develops policies and procedures for students and supervisors.
Eric holds a Bachelor of Arts from Fisk University and a Masters of Arts from The Chicago School of Professional Psychology. He remains connected and actively engaged in the Student Employment community in his role as a Student Employment Essential (SEE) Trainer, in addition to serving on the Board of Directors for the Midwest Association of Student Employment Administrators (MASEA).