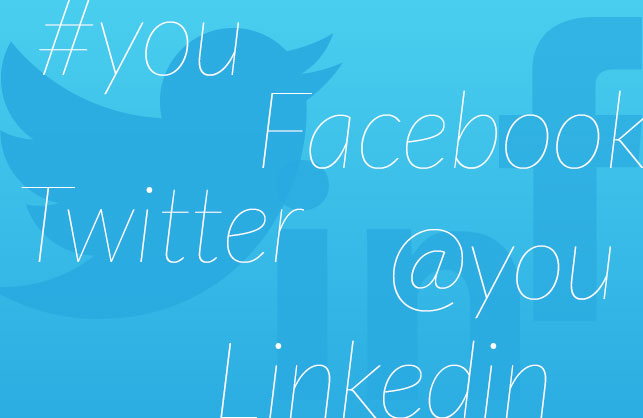 Do an Audit
Strategizing your web presence is not just about taking down the negative.  It's about building up the content that is positive and professional.  Do a google search to see what comes up about you.  Ideally something professional (ie, LinkedIn, your portfolio site, articles about you) comes up on the first page.  If not, you've got some work to do.
Decide where you need to be
Consider both the nature of your work, and what kind of audience you are looking to reach, and that each social media platform has a slightly different personality.  You may not need to be everywhere.
Most of us have profiles on Facebook at this point, so we know that Facebook helps people connect to each other.  But if you want to present yourself as a business, artist, musician, or any number of other things, it might make sense to separate your Facebook personas.  Formerly known as "Fan Pages" and now more broadly titled "Official Pages," separate sites for your professional work can be a good way to present your art to potential buyers, while reserving your vacation photos for your friends and family.  "Pages" also allow you to track analytics to see how much attention you're getting. 
There are also a growing number of apps in Facebook to help the more traditional job seeker.  You can now access job postings, using apps like internships.com.  Apps focused on professional networking, like Branch Out are also starting to emerge. Coroflot even has an app.  There is a new app nearly every day, so watch for updates.
Facebook tips:
Keep your personal page appropriate and professional to the outside world
Start a separate Page if you are creating work
Make sure everyone knows you are job searching- even on your personal page
Integrate apps that will help your job search. Some examples include Etsy, BranchOut and BeKnown.
Best Practices for Bands on Facebook 
With it's own language of tweets, retweets and hashtags, Twitter can be overwhelming to a beginner.  But when you get the hang of it, Twitter can be a great way to gather information and build your network.
Start with the search feature to get a sense of how conversations flow. Search topics like "jobs Chicago" to access leads that may not be posted elsewhere. Follow users and companies who spark your interest.  And eventually, create a profile of your own and start tweeting.  Twitter only works when you use it to connect. Think of the old "if a tree falls in the woods…" adage.  Tweet, retweet, and figure out how to use #hashtags to get attention and grow your audience.
Twitter tips:
Create a professional profile that fits your overall 'brand'
Learn how to use hashtags that get noticed
Follow companies/individuals you are interested in
Actively connect with others, retweet, and be a part of the conversation
Check out Mashable's guide to branding yourself on Twitter
If you haven't used LinkedIn before, this is a very rich system that helps you maintain and grow your network. Users upload their resume content into a profile. It has even become more appropriate for creative professionals by integrating a Behance app. Add contacts- former supervisors, instructors, friends, coworkers… eventually this becomes a great way to stay in touch with existing contacts. It can also help you expand your network by allowing you to join Groups, where you can join discussions and search for members.
Critical LinkedIn features:
Create a profile with a meaningful summary
Add Contacts with personalized invitations
Add Groups and actively participate in conversations
Follow Companies – they often watch their followers as a recruiting tool
Integrate portfolio content with Behance or other apps
Learn how to optimize your LinkedIn profile for the job hunt
Link Everything Together
You may be wondering where your Talent Pool, or other portfolio sites fit in to this.  Your portfolio site is at the core of all of your social media use.  It has your full portfolio, as opposed to just snippets.  It can link to your social media pages, or you can use social media to drive traffic there.  Every site you use should connect to all of the others.
Give Some, Get Some
Finally, for social media to have ANY impact, you need to keep at it.  You need to be proactive about using these systems and publicizing your sites.  Even online, good relationships are reciprocal and can take time to build.  And ideally, they will eventually lead to face to face meetings.