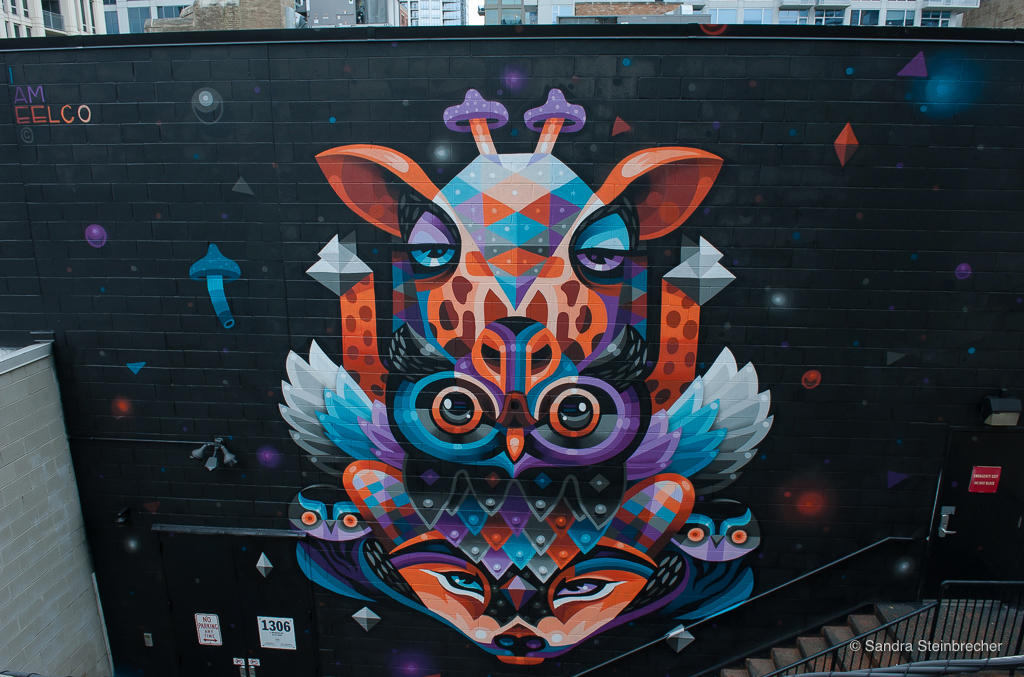 The Wabash Arts Corridor is Chicago's living urban canvas in the heart of the South Loop neighborhood. Founded by Columbia College Chicago in 2013, WAC has grown to be one of the most expansive, diverse and accessible public art programs in the country. This community driven project weaves the visual, performing and media arts into daily life, immersing residents and visitors into artist-reclaimed public spaces that transform the urban experience.
In just a few years, WAC has connected students, artists, curators, academic institutions, cultural organizations and local businesses with educational and cultural programming for the visual, performing and media arts. Artists and curators from five continents have left their mark on WAC with murals, performance, installations, actions and large-scale projections that are always free and open to the public. The Wabash Arts Corridor has emerged as a key player in the city with hundreds of thousands of visitors each year and receiving press from all over the globe.
The founding Wabash Arts Corridor team was comprised of Columbia College staff including Alicia Berg and Mark Kelly (co-chairs), Tara Vock, Neysa Page-Lieberman, Norman Alexandroff, Jacob Chartoff and Joanne Harding. Key founding community members included Abie Vazquez, Sandra Steinbrecher, Sara Dulkin, Jenni Button, Keith Giles, Patrick Hull and many local businesses and organizations like Chicago Truborn, Hilton Chicago, Roosevelt University, Vertical Gallery and Site Design. Later key Columbia staff included curators and producers Meg Duguid, Connie Stanley, Ronda Payne, Mark Porter, Ted Cho, Tracey Drobot and Kari Sommers.
From 2016-2019, under the direction of chief curator, Neysa Page-Lieberman, the Wabash Arts Corridor began a focus of diversity, equity and inclusion, and developed one of the largest street art and public art collections of women artists and artists of color. Three exemplary programs that reflect this direction include STREET LEVEL (2016), Wabash Arts Corri-Doors (2019-2020) and Sister Cities Artist Exchange (2017-2019).
In 2020, Meg Duguid was named the chief curator of the Wabash Arts Corridor and will continue to focus diversity, equity, inclusion and access.
To learn more, visit wabashartscorridor.org.