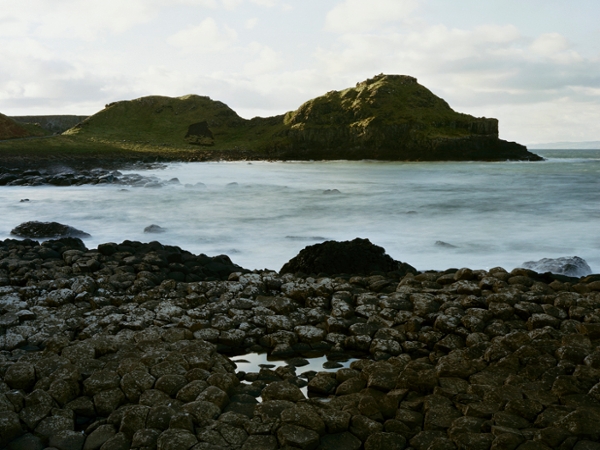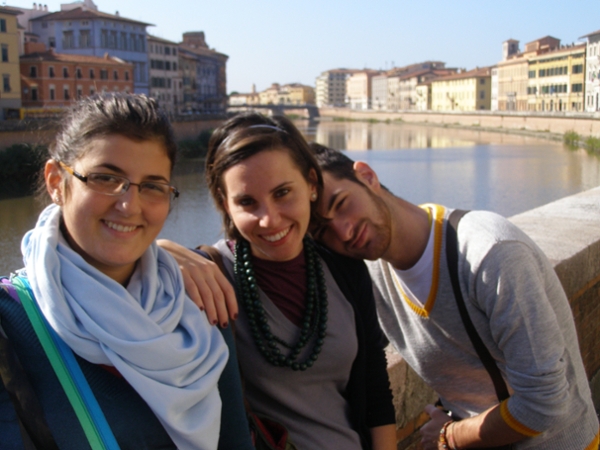 Want to live and learn in another country, visit a castle in the afternoon, and swim in the Mediterranean at night?  Or maybe you're more into eating croissants for breakfast.  Or, maybe a hike along the Great Wall is just the thing to get your creative juices flowing, as you see how people in other cultures work in your major.
We've partnered with a select number of schools that allow you to continue in your major and also in your Liberal Education requirements.  If you're anxious about study abroad, it's nice to know the exchange campuses are visited by Columbia, and we're in regular contact with their faculty and staff.  That means a whole lot of the red tape that can go along with study abroad is already taken care of for you.

Remember, though, you might need certain prerequisites or a portfolio, so it's never too early to plan for an exchange program.  Then, when you're more advanced in your coursework, you can spend a semester of, say, your junior year in England or Ireland or even China.

Yeah, but can you afford it?  The good thing about exchanges is that you continue to pay tuition to Columbia.  Easy as that.  You have to buy your plane tickets (it's hard to drive to Australia), but the rest of your costs are comparable to your costs as a full-time Columbia student living on campus.

Check out our exchanges, but remember that there are a limited number of spots, so plan early!
All students applying to participate in an Exchange Program will be required to pay an application fee. Click here to pay the $30 application fee. 
Requirements: To be approved for an exchange, students must have at least a 2.5 GPA and maintain Satisfactory Academic Progress according to CCC policy.
NOTE: Application Deadline to study abroad on exchange in Spring 2022 is Friday, October 8, 2021 for most programs. The application deadline to study abroad on exchange at The University of Greenwich in London is Friday, September 24, 2021.
Important Health and Safety Information: Columbia College will not approve any study abroad programs travel to Travel Warning Level 4 countries as designated by the Centers for Disease Control and Prevention (CDC). Additionally, there shall be no college related travel to Travel Warning Level 3 countries as designated by the Centers for Disease Control and Prevention (CDC), unless the individual is fully vaccinated for the particular risk generating a health-related Level 3 rating. CDC Travel Warning Levels are available at https://wwwnc.cdc.gov/travel/notices/. Any college-related travel to U.S. Department of State Travel Advisory Level 4 and Level 3 countries must be authorized in advance by the college's Travel Review Committee. Committee decisions will be based on existing U.S. government guidance, the necessity level of the trip, timing and specific locations to be visited. Note that for the purposes of this policy, the CDC list supersedes the U.S. Department of State list. The Columbia College International and Domestic Travel Policy is available at https://colum.knack.com/columbia-college-chicago-policy-site#compliance/policy-details4/5ef3ad65f13dbd0015074fa6/.
---
Nanyang Technological University
| | |
| --- | --- |
| Location: | Singapore |
| Program Dates: | Fall and Spring semesters |
| Subjects: | Digital Animation, Digital Filmmaking, Interactive Media, Photography & Digital Imaging, Product Design, Visual Communication, Arts Education, Information Engineering and Media, LAS and other electives |
| Housing: | On-campus housing available |
| Instruction Language: | English |
| Website: | https://www.ntu.edu.sg/ |
| Deadline for Fall: | *Exchange for Fall 2021 is not available* |
| Deadline for Spring: | *Exchange for Spring 2022 is not available* |
Universidad Peruana
Universidad Mayor
Flinders University
| | |
| --- | --- |
| Location: | Adelaide, South Australia |
| Program Dates: | Fall and Spring semesters |
| Subjects: | Creative Writing, Dance, Digital Media, Drama, Fashion, Screen, Visual Arts, Design and Technology Innovation, Media Arts, LAS, and other electives |
| Housing: | On-campus housing available |
| Instruction Language: | English |
| Website: | https://www.flinders.edu.au/ |
| Deadline for Fall: | *Exchange for Fall 2021 is not available* |
| Deadline for Spring: | *Exchange for Spring 2022 is not available* |
University of Greenwich
University of Salford
| | |
| --- | --- |
| Location: | Manchester, England |
| Program Dates: | Fall and Spring semesters |
| Subjects: | Journalism, TV, Dance, Graphic Design, Fashion Design, Interior Design, Film, Photography, Animation, IAM, Music, Theatre, and Others |
| Housing: | On-campus housing available |
| Instruction Language: | English |
| Website: | https://www.salford.ac.uk/ |
| Deadline for Fall: | *Exchange for Fall 2021 is not available* |
| Deadline for Spring: | October 8, 2021 |
Technological University Dublin
| | |
| --- | --- |
| Location: | Dublin, Ireland |
| Program Dates: | Fall and Spring semesters |
| Subjects: | Journalism, Graphic Design, Interior Architecture, Radio, Photography and Theater |
| Housing: | Off-campus dormitories available |
| Instruction Language: | English |
| Website: | https://www.tudublin.ie/ |
| Deadline for Fall: | *Exchange for Fall 2021 is not available* |
| Deadline for Spring: | October 8, 2021 |
University of East London
| | |
| --- | --- |
| Location: | East London, England |
| Program Dates: | Fall and Spring semesters |
| Subjects: | Theater, Cultural Studies, Fashion, Dance, and other electives |
| Housing: | On-campus dormitories available |
| Instruction Language: | English |
| Website: | https://www.uel.ac.uk/ |
| Deadline for Fall: | *Exchange for Fall 2021 is not available* |
| Deadline for Spring: | *Exchange for Spring 2022 is not available* |
Bath Spa University
| | |
| --- | --- |
| Location: | Bath, England (90 minutes west of London) |
| Program Dates: | Fall and Spring semesters |
| Subjects: | Creative Writing and Publishing; Film and Screen Studies; Photography; Media Communication; Theater; Creative Media Practice; History; and LAS courses |
| Housing: | On-campus dormitories and off-campus residence available, and home-stays |
| Instruction Language: | English |
| Website: | https://www.bathspa.ac.uk/ |
| Deadline for Fall: | *Exchange for Fall 2021 is not available* |
| Deadline for Spring: | October 8, 2021 |
Rose Bruford College
| | |
| --- | --- |
| Location: | Sidcup, England (30 minutes southeast of London) |
| Program Dates: | Fall and Spring semesters |
| Subject: | Theatre; Scenic Arts Program (Spring) |
| Housing: | On-campus dormitories and off-campus residence available |
| Instruction Language: | English |
| Website: | https://www.bruford.ac.uk/ |
| Deadline for Fall: | *Exchange for Fall 2021 is not available* |
| Deadline for Spring: | October 8, 2021 |
Tongji University: College of Communication and Arts
| | |
| --- | --- |
| Location: | Shanghai, China |
| Program Dates: | Fall and Spring semesters |
| Subjects: | Interactive Arts and Media; Web design; Graphic Design; Film and Video/ Cinearts; Marketing/ Communication; World Music; Audio Arts; Cultural Studies; Chinese Language; and Chinese Culture |
| Housing: | On-campus dormitories |
| Instruction Language: | English and Mandarin |
| Website: | https://www.tongji.edu.cn/english/ |
| Deadline for Fall: | *Exchange for Fall 2021 is not available* |
| Deadline for Spring: | *Exchange for Spring 2022 is not available* |
Korea National University of Arts (K-Arts)
Location:
Seoul, South Korea
Program Dates:
Fall and Spring Semesters
Subjects:
School of Music: Vocal, Instrumental, Composition, Conducting, Musicology; School of Dance: Performance, Choreography, Dance Theory; School of Drama: Acting, Directing, Stage Design, Playwright, Theatre Studies; School of Film: TV & Multimedia: Filmmaking, Broadcasting, Multimedia, Animation, Cinema Studies; School of Visual Arts: Fine Arts, Design, Architecture, Art Theory; and, School of Korean Traditional Arts: Korean Traditional Arts Theory, Korean Traditional Music, KoreanTraditional Dance, Korean Traditional Dramatic Performing Arts
Housing:
Accommodation (Dormitory)
* Dormitory application is first come, first served principle, in case there are more applicants than its
capacity.
Instruction Language:
Language Requirement: Korean or/and English (TOEFL 79 or above)
* Majors with Korean language requirements
◆ Acting, Directing, Filmmaking, Broadcasting, and theoretical studies in general → Intermediate or above level of Korean proficiency required.
◆ Multimedia and design → Basic understanding of daily conversations and lectures in Korean.
* Language of Instruction: Korean
* Students with Korean language proficiency, regardless of their majors, have higher possibility to be accepted when given the same conditions with others.
* For successful exchange students, Korean Language courses are available as credit courses.
Website:
https://www.karts.ac.kr/en/karts/exchage.do
Deadline for Fall:
*Exchange for Fall 2021 is not available*
Deadline for Spring:
October 8, 2021
PopAkademie Baden-Württemberg
| | |
| --- | --- |
| Location: | Mannheim, Germany |
| Program Dates: | Fall Semester |
| Subject: | Popular Music Performance; Music Business |
| Housing: | Off-campus housing available |
| Instruction Language: | English and German |
| Website: | https://www.popakademie.de/ |
| Deadline for Fall: | *Exchange for Fall 2021 is not available* |
For more information about any exchange programing please contact Global Education at edabroad@colum.edu