Counseling Services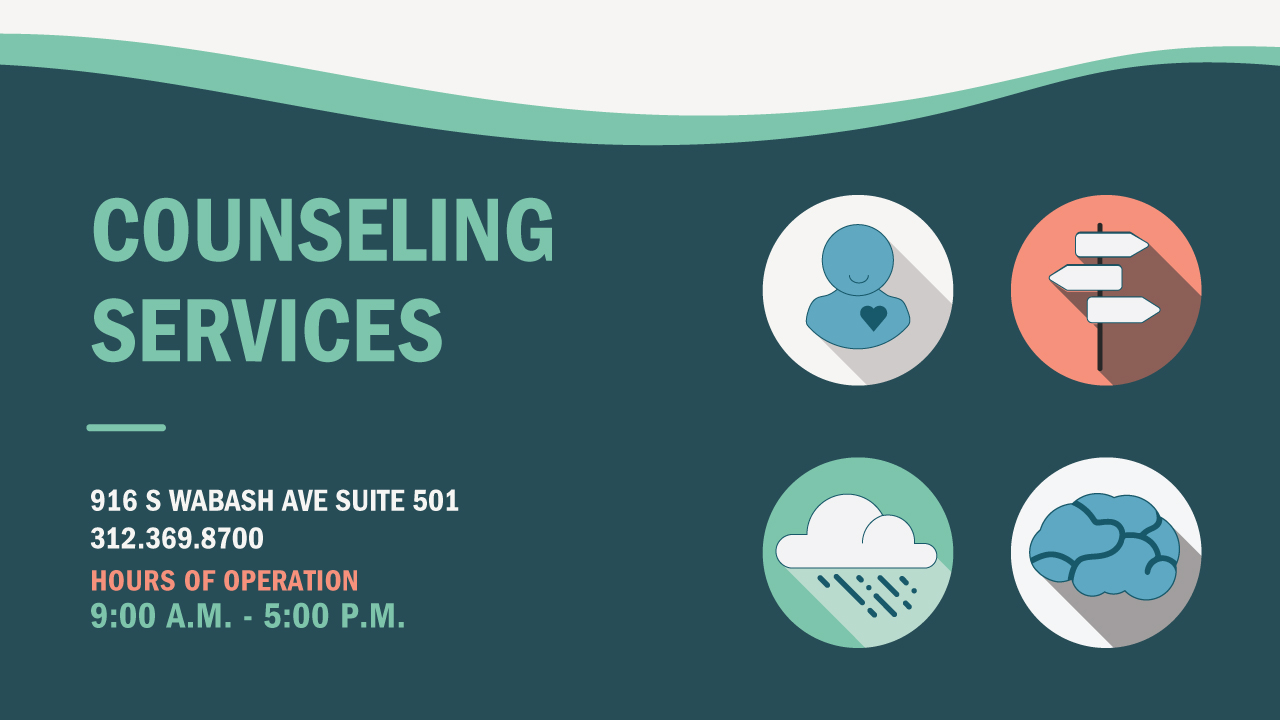 If you are having a life-threatening emergency, please contact 911 or go immediately to the nearest Emergency Room.
Counseling Services is designed to help students increase self-awareness and address mental health concerns with the goal of empowering students to manage challenging areas in their lives. Services are available to currently enrolled students. A semesterly fee, which is included in your tuition and fees, covers the costs of all visits!
Clinicians can aid students who are experiencing any of the following: depression, anxiety, mood swings, fearfulness, thoughts of suicide or homicide, poor concentration, recent loss of a loved one or significant other, troubled or abusive relationships, nervousness or tension, poor body image, difficulty adjusting to college life, low self-esteem, and substance abuse. Services include individual, couples, process groups and personal improvement groups for students.
Call 312-369-8700 to schedule your Initial Consultation. You'll be asked to provide your contact information and time to schedule an appointment that is most convenient for you. Students must make their own appointments at Counseling Services. Family, friends, faculty, or staff cannot make appointments for students.
During the Initial Consultation you will meet with a licensed clinician (or masters level clinical intern under the supervision of a licensed clinician) and complete intake forms. The intake forms may be completed before or after the face to face meeting. Be prepared to provide information about why you called, where you live, and how your daily functioning has changed. Please allow at least an hour for the appointment.
Based upon the Initial Consultation, the clinician will recommend one of the following services:
Suggest you speak with a clinician individually
Suggest alternative resources off-campus in the community
Suggest one of the Counseling Services process groups or personal improvement groups.
Professional standards of confidentiality are followed by the entire Counseling Services Staff. Personal health information provided to our office will be protected unless a student provides written permission to release that information. Exceptions to this policy exist when confidential information is needed to protect a student's health or safety or is mandated by law.
Information for Minors:
Except for situations such as those mentioned above, the clinician will not tell the parent or guardian specific things shared within session. The clinician may need to use their professional judgment if they feel that you are in danger. In those situations, the parent or guardian will be contacted.
Upcoming Events