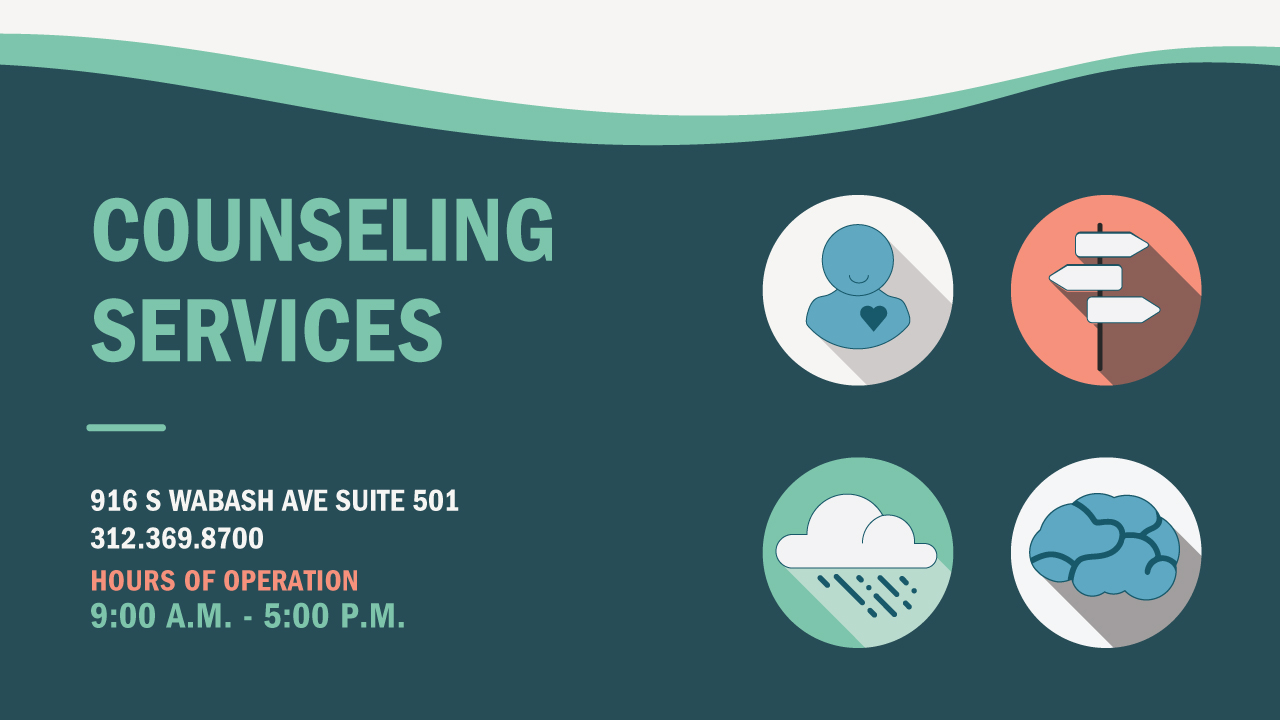 If you are having a life-threatening emergency, please contact 911 or go immediately to the nearest Emergency Room.
COUNSELING SERVICES AND STUDENT RELATIONS DURING COVID-19
Counseling Services and Student Relations are invested in preserving the safety and wellbeing of our Columbia College Chicago Community. It's crucial during this time of uncertainty with Covid-19 that we protect you and our campus community. The College has informed us about changes to the academic calendar through the remainder of the spring 2020 semester, including the closure of campus buildings and the transition to online learning. These measures are intended to enhance community safety in response to COVID-19. For College updates, please visit the Columbia College Chicago Coronavirus Information page.
Though Counseling Services and Student Relations has closed its physical location, we will continue to serve you:
Counseling Services Staff are monitoring phone calls made to 312-369-8700 between 9am and 5pm, Monday – Friday. Visit Counseling Services for information about provided services.
Student Relations staff are monitoring calls made to 312-369-8595 between 9am and 5pm, Monday-Friday. Visit Student Relations for information about provided services.
When calling Counseling Services and Student Relations, please leave a message with your name, MyColumbia ID, the best phone number at which to reach you, and a brief description of the reason for your call (make sure your voicemail is set up!). Your call will be returned from a blocked number.
If you or someone you know is having a mental health emergency, please call 911.
HOW DO I KNOW IF I AM HAVING A MENTAL HEALTH EMERGENCY?
Experiencing serious thoughts about suicide or harm to yourself and worry that you may act on them.
Experiencing serious thoughts of doing harm to another person and worry that you may act on them.
Experiencing hallucinations (hearing, seeing, feeling things that no one else hears, sees, or feels). For example, hearing voices, seeing objects, or living things not heard or seen by others.
For non-emergency crisis support:
Thank you for your patience as we work together to support the safety and wellbeing of the College community during this unforeseen pandemic. Visit TAKING CARE OF YOUR MENTAL WELLBEING DURING COVID-19 for additional resources
We are in this together. We are resilient.
Counseling Services and Student Relations
TAKING CARE OF YOUR MENTAL WELLBEING DURING COVID-19
Infectious disease outbreaks, including Coronavirus (COVID-19) create a new type of crisis with a great deal of uncertainty about the nature of the disease, its spread, and its impact. This will understandably affect our emotional and mental health wellbeing - even among those who have not been directly exposed to the disease. Reactions to a crisis can appear very different from person to person and can occur at any time. Please consider the following recommendations for promoting your mental wellbeing during this time.
Things You Can do to Support Yourself
Limit Media Exposure.
Turn off the television and/or alert messaging on your phone if it is increasing your distress. Exposure to media can be healthy or unhealthy, for some of us knowing helps to feel a sense of control over the situation while for others it may reinforce anxiety and fear. Research has shown that excess media exposure to coverage of stressful events can result in negative outcomes. Use trusted resources to gather the information you need then turn it off if it's causing stress.
APA Five Ways to View Coverage of the Coronavirus: https://www.apa.org/helpcenter/pandemics
Use Trusted Resources to Stay Informed.
Obtain the latest information during an infectious disease outbreak from credible and reliable sources of information. Up-to-date, accurate recommendations regarding disease prevention, self and family care, and travel guidance can be found at the following websites:
The Chicago Department of Public Health
Columbia College Chicago Coronavirus-COVID 19 Website.
Anticipate and Recognize Stress Reactions.
Emotional distress is common and normal in the context of uncertainty and potentially life-threatening situations, such as Covid-19 pandemic. Stress can present itself in different ways including physical, emotional, or cognitive ways. One common response for young adults is a feeling of invincibility and or emotional detachment which can lead to behaviors that may significantly increase risks.
Common acute stress reactions
shock, things feeling surreal
fear or anxiety about the future or death
hopelessness or feeling lost about the future; feeling a lack of purpose in study or work
difficulty concentrating or making decisions
feeling emotionally detached, numb, or crying for what seems like no reason
rumination, preoccupation with information about the outbreak
difficulty getting to sleep, poor sleep quality, bad dreams, or problems staying awake during the day
headache, stomachache, or pain without medical causes
significantly decreased or increased appetite
relying on alcohol or substances to cope with stress
increased irritability, feeling angry
shortness of breath, rapid heart rate, experiencing panic attack(s)
feeling isolated or lonely, particularly due to social distancing practices
Reactions specific to this COVID-19 outbreak
Worry about contamination, preoccupation with any signs/symptoms of illness, excessively taking your own temperature, and frequent urges to have yourself examined at health centers. The worries may impact your daily living, social relationships, or study.
Experiencing symptoms such as itchy throat or nasal congestion and being concerned about having contracted coronavirus, even though no fever is present and there is little possibility of having contracted the virus in reality.
Feeling alone or misunderstood.
Feeling angry at or lacking trust in systems or others.
Feeling lonely or isolated due to social distancing practices.
Excessive attention to or obsession with related news, information, articles, or statements. The focus can result in compulsively reading about information about the outbreak, difficulty sleeping, and/or problems with concentrating on other topics.
Quickly jumping to conclusions based on new information, resulting in panic in self or others.
Grieving over loss or feeling sad and/or a sense of unfairness around someone's death.
"Survivor guilt" due to having no symptoms and little-to-no likelihood of having contracted the virus. For example, you might feel ashamed, guilty, or that you have abandoned your loved ones because you are not directly involved, because you are currently healthy, because others around you have fallen ill, or because there are limited ways you can help.
Excessive worry about loved ones who are currently affected by the virus. The worries significantly impact your daily life, social life, or study.
Feeling angry, disappointed, or a lack of control because your loved ones do not follow suggested precautions or believe in false information.
Try Different Strategies to Cope and Reduce Stress.
It's normal to feel distressed in the face of hard times. The good news is that you can learn the skills of resilience. Many people already possess these skills and will bounce back on their own, given time. There are also several strategies you can use to help restore emotional wellbeing and a sense of control. What works for you may not work for others. It is important to keep at it and try different things such as:
Be prepared

(e.g., develop a personal/ family plan for the outbreak) and educate yourself about preventive measures: from hand-washing technique and cough etiquette, to more complex medical recommendations for prevention, diagnosis, and treatment.
Talk about it. It's important not to hold in your emotions. Talk to a friend, family member, or a counselor. Ask for support from people who care about you and who will listen to your concerns. Receiving support and care can be comforting and reassuring. Communicate in whatever way feels comfortable to you; even keeping a diary. Connect with friends and family in novel ways if you're isolated. Connect with those you feel closest to for support.
Do things that are enjoyable, even if you don't feel like it. Listening to music, exercising, practicing breathing routines, spending time in nature or with animals, journaling, or reading inspirational texts are some simple ways to help manage emotions.
Engage in healthy behaviors to enhance your ability to cope with excessive stress. Eat well balanced meals, get plenty of rest, and build physical activity into your day. Avoid alcohol and drugs; they can suppress your feelings rather than help you manage and lessen your distress. Eat regularly and keep up with an exercise routine. If you are having trouble sleeping, try some relaxation techniques, such as deep breathing, meditation, or yoga. Take care of your body. Try to eat healthy, well-balanced meals, exercise regularly, and avoid alcohol and drugs.
Happify: Mental Health App
Sanvello: Mindfulness and relaxation app
CorePower Yoga: Online yoga fitness classes - magic of yoga with increased intensity for a powerful, purposeful workout

Participate in an online support group.
Helping others, even during your own time of distress, can give you a sense of control and can make you feel better about yourself. Locate resources in your community or ways that you can help other or do something productive. Helping someone else often has the benefit of making you feel better.
If possible, stick to your usual daily routine and strive for balance. It's easy to become overwhelmed and have a negative or pessimistic outlook. Balance that viewpoint by reminding yourself of people and events which are meaningful and comforting, even encouraging. Striving for balance empowers you and allows for a healthier perspective on yourself and the world around you.
People who already are managing existing mental health conditions should prioritize self-care during difficult times and should contact their clinicians if they have questions or concerns.
Here are some additional links with more guidance on caring for your mental health:
CDC Taking Care of Your Emotional Health
COVID-19: Managing Stress in This Anxious Time:
Mental Health America, Mental Health And COVID-19 – Information And Resources
Counseling Services is designed to help students increase self-awareness and address mental health concerns with the goal of empowering students to manage challenging areas in their lives. Services are available to currently enrolled students. A semesterly fee, which is included in your tuition and fees, covers the costs of all visits!
Clinicians can aid students who are experiencing any of the following: depression, anxiety, mood swings, fearfulness, thoughts of suicide or homicide, poor concentration, recent loss of a loved one or significant other, troubled or abusive relationships, nervousness or tension, poor body image, difficulty adjusting to college life, low self-esteem, and substance abuse.
Professional standards of confidentiality are followed by the entire Counseling Services Staff. Personal health information provided to our office will be protected unless a student provides written permission to release that information. Exceptions to this policy exist when confidential information is needed to protect a student's health or safety or is mandated by law.
Information for Minors:
Except for situations such as those mentioned above, the clinician will not tell the parent or guardian specific things shared within session. The clinician may need to use their professional judgment if they feel that you are in danger. In those situations, the parent or guardian will be contacted.
Upcoming Events