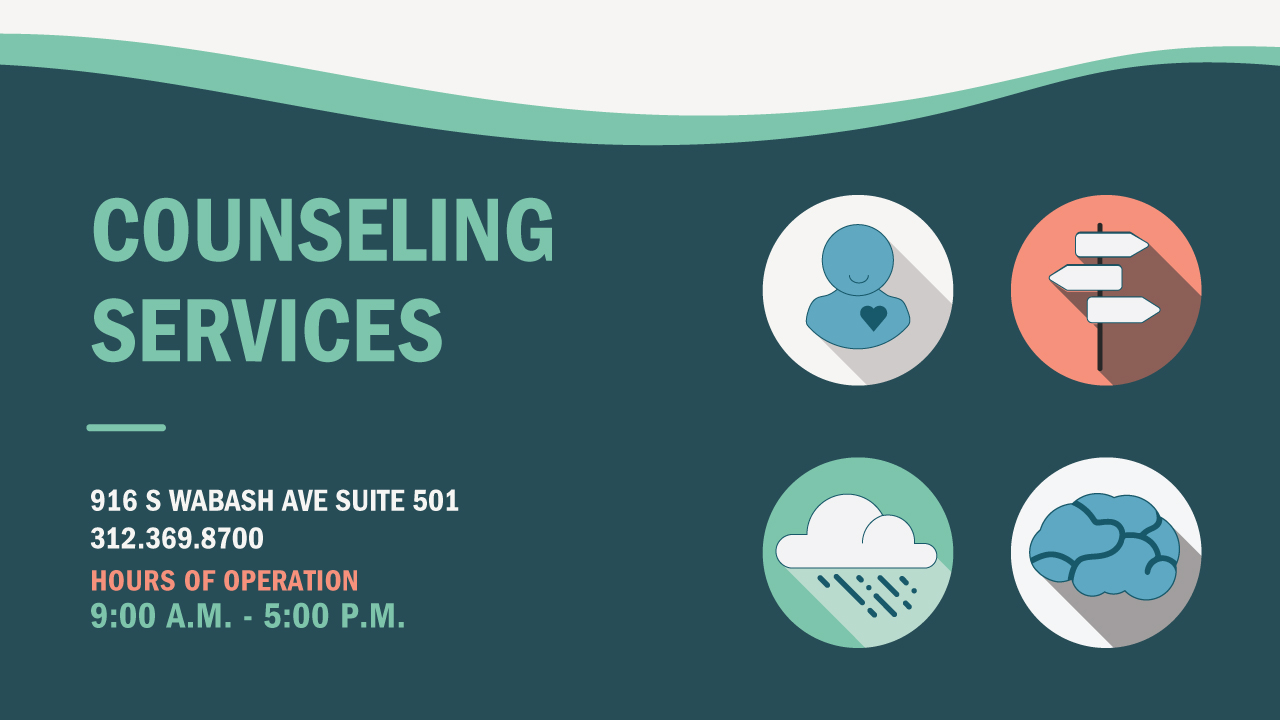 If you are having a life-threatening emergency, please contact 911 or go immediately to the nearest Emergency Room.
NEED ASSISTANCE?
We are now scheduling services for Spring Semester. Please click the Request Assistance button below. 
The button below takes you to our Counseling Services Request Assistance Form. Once completed, someone will be in contact with you shortly regarding scheduling.
 Counseling Services and COVID-19
Counseling Services is invested in preserving the safety and wellbeing of our Columbia College Chicago Community. It's crucial during this time of uncertainty with Covid-19 that we protect you and our campus community. Counseling Services is currently offering Telebehavioral Health virtual sessions via Zoom at the beginning of the Spring Semester. For College Covid-19 updates, please visit the Columbia College Chicago Coronavirus Information page. Please note, offerings may change at any time. 
Getting Set-Up with Counseling Services 
You can request services during the semester by clicking on the Request Assistance button above.
You can also call us at 312-369-8700. Counseling Services Staff monitor phone calls between the hours of 9am and 5pm, Monday – Friday. 
When calling Counseling Services, please leave a message with your name, MyColumbia ID, the best phone number at which to reach you, and a brief description of the reason for your call (make sure your voicemail is set up). Your call may be returned from a blocked number.
WHAT WE OFFER:
Telebehavioral Health (TBH)Treatment via Zoom 
Counseling Services is currently providing Telebehavioral Health Services through Zoom for Healthcare, a HIPAA and FERPA compliant platform. Full-time and part-time students residing in Illinois may be eligible to receive individual TBH therapy services. Please call during our regular business hours to schedule an appointment or fill the Request an Appointment Form.  
Tele-health Rooms 
For students who would like to meet virtually but do not feel they have a private space to do so, we have several Tele-Health rooms that can be requested. These are private spaces equipped with the technology for a virtual therapy session to take place. They are disinfected after each use. Please alert our administrator if you would like to request the use of a Tele-health Room.
 Triage and One-Time Appointments 
Counseling Services also offers one-time case management and triage appointments throughout the semester as needed. These are currently being conducted virtually at the beginning of the Spring Semester. Toward the end of each semester Counseling Services begins to solely offer one-time appointments to support students in need. The goal of this meeting is not to provide therapy but to connect students with appropriate on and off campus mental health resources that may be useful prior to the end of the semester. 
EMERGENCY ASSISTANCE
If you are having a life-threatening emergency, please contact 911 or go immediately to the nearest Emergency Room or Living Room.
How Do I Know if I am Experiencing a Mental Health Emergency?
Experiencing serious thoughts about suicide or harm to yourself and worry that you may act on them.
Experiencing serious thoughts of doing harm to another person and worry that you may act on them.
Experiencing hallucinations (hearing, seeing, feeling things that no one else hears, sees, or feels). For example, hearing voices, seeing objects, or living things not heard or seen by others.
Non-Emergency Crisis Support:
Thank you for your patience as we work together to support the safety and wellbeing of the College community during ongoing changes associated with this unforeseen pandemic. Updates to services offered through Counseling Services will be posted to this page. Visit COVID-19 Resources for additional resources
We are in this together. We are resilient.
-Counseling Services 
Group Events
In conjunction with Student Relations, we are offering several in-person, virtual, and blended Therapy Groups this semester! Please refer to our
Therapy Groups
 Page for updates.