The Registration System in MyColumbia
The Fall 2023 registration process will include a 'pilot' Waitlist Program. Students will be able to add their names to a waitlist of certain courses.
For instructions on how to use the Waitlist feature, click here.
For a complete list of Waitlist courses, click here.
To view a comprehensive video on MyColumbia and the registration system, see video below.
ALEKS Math Placement Information
If you need to register for your math class and we do not have exam records on file, here is a link to the math placement exam called ALEKS. Click here to access the exam. 
If you need screen reader technology for the exam, please click here
Why Can't I Register?
Q: When I click on the Register for Classes link, it says I have a hold. What do I do?
A: There are several student account holds that will prevent you from registering for the next term. These include holds related to your immunization records not being up to date, being out of academic compliance, and financial record issues. Specific hold information, including how to resolve a hold, can be found in the My Holds section under the MyAcademics tab in MyColumbia.
Q: When I search for classes I'll get a weird white and yellow error screen. What did I do wrong?
A: You didn't do anything wrong. Sometimes MyColumbia gets overwhelmed, especially when there's a lot of traffic (registration peak times or the beginning of a new semester, for instance), and that screen will appear. Just refresh once or twice, and it should work out. If not, just start the search over.
Q: I put information in the Course Number field, hit Enter, and got the following screen. I know the course is being offered, so what gives?

A: The Registration Screen doesn't like the Enter key, for some reason. If you have a course number in that field, either enter the section number in the Section Number field or click the ? box next to that field to complete the course information to add to your schedule. Ultimately, you'll click the Add button to add the course to your schedule. If you go this route, you shouldn't see the message above.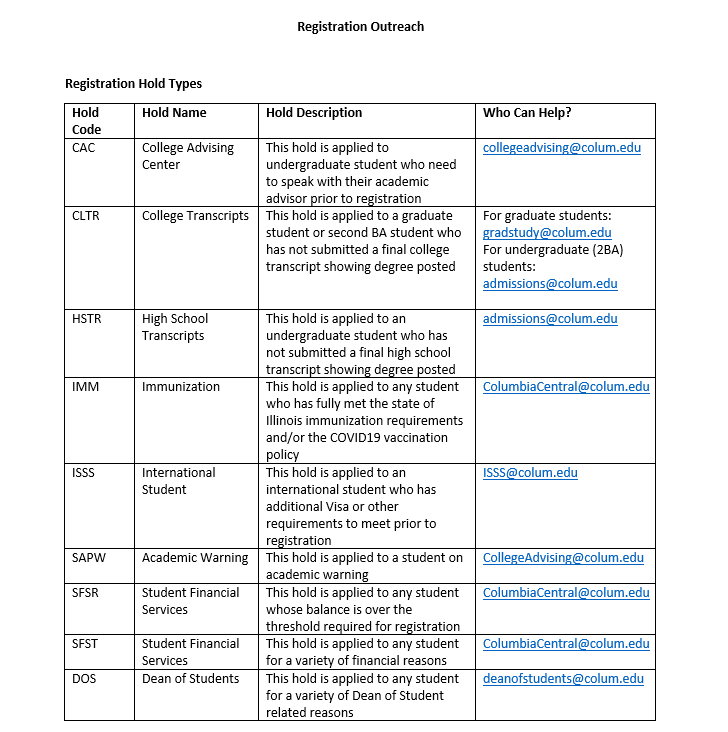 What if I Have Still Have Questions About Registration?
The College Advising Center is here to help! Students are always encouraged to see their assigned advisors ahead of registration time to discuss course selection or graduation planning. We also offer extended walk-in hours during the first week of each semester as well as during the priority registration week. These walk-in's are great for troubleshooting or general registration questions.