The Student Handbook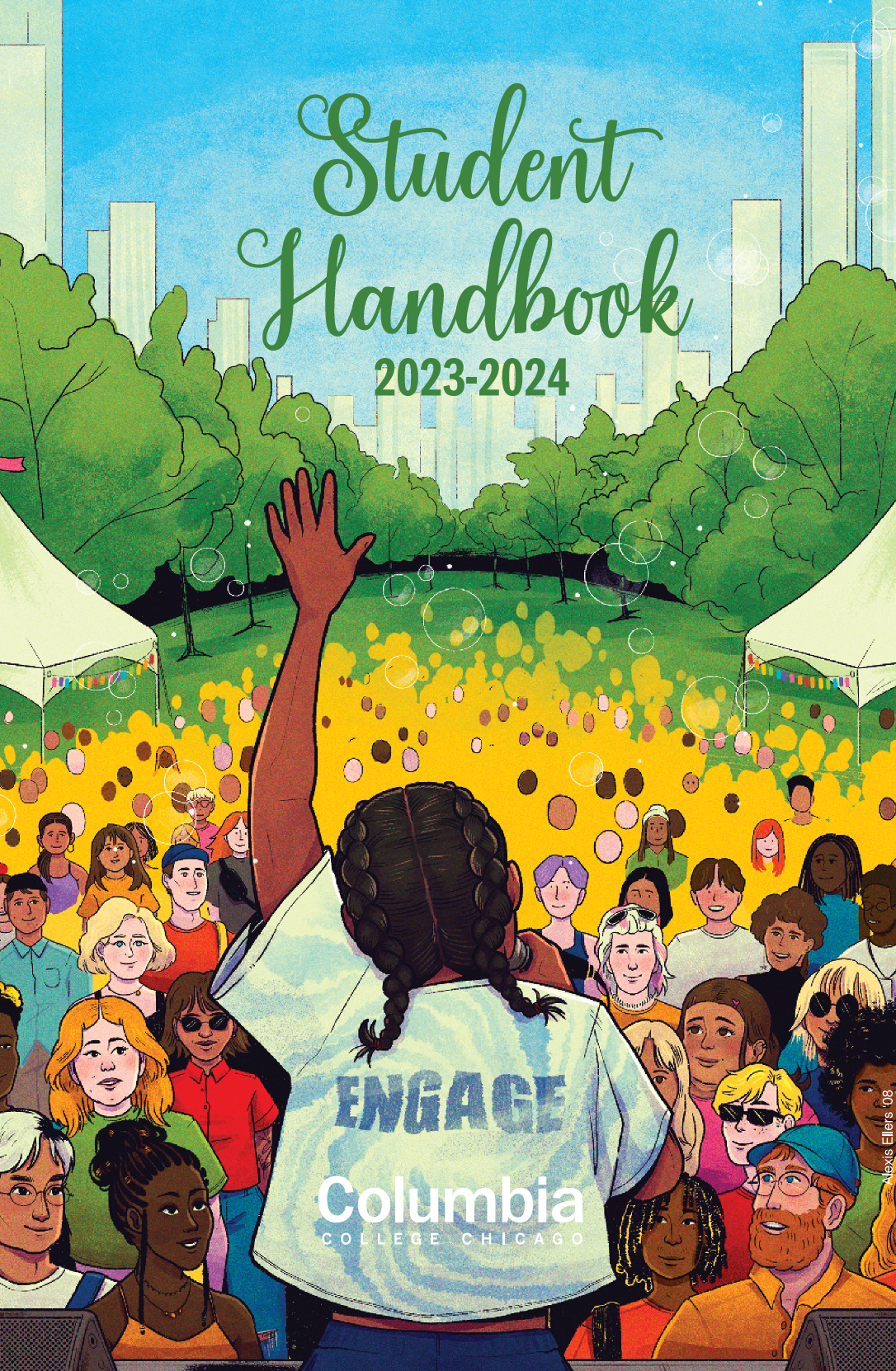 ---
New and Returning Students,
Welcome to our community of creative scholars and thank you for choosing to pursue your education at Columbia College Chicago. My staff and I have designed a variety of co-curricular programs and services that will enhance your Columbia experience. To maximize your academic success, I encourage you to take advantage of the programmatic efforts and services developed by the Student Affairs staff, which you may find to be both inviting and engaging. Below I have outlined the various Student Affairs offices and the ways in which you may become involved:
The Student Life staff supports a multitude of student groups that you may join, such as the Student Government Association and the Student Organization Council, through which you can directly impact campus life. Our Student Diversity and Inclusion office staff is also ready to hear your voice to ensure that you are a part of developing and enhancing our community of diverse learners.
Our Student Health and Support staff, along with our Office of Equity Issues staff, have developed an array of programs to support you academically, emotionally and mentally. Whether you would like to speak with someone about your personal development or any other topic, there is a staff person or campus resource available to you.
For those away from home, our Residence Life staff are prepared to assist you in finding the right living space on campus. Their programs are designed to assist you in living in a community of artists. The residence halls are comfortable and conducive to collaboration.
The Student Center is your campus hub for events and activities, featuring a variety of student-focused spaces for dining, studying, relaxing, getting fit, and building community. You are encouraged to utilize the Student Center as a place to meet up, make art, and celebrate all that Columbia College Chicago has to offer.
As you matriculate at the college, the Career Center staff is here to help you identify opportunities to put the theories that you have learned in the classroom into practice. They can guide you in exploring your career path, packaging your portfolio for presentation to the wider arts and communications industries, securing an internship, and finding employment.
Best wishes on your academic journey and remember that my staff and I are here with a host of support services and resources that will assist you in your academic success.
Sharon Wilson-Taylor, Ph.D.
VP of Student Affairs
---
Welcome to the Online Student Handbook!
The Student Handbook is a practical guide to Columbia's many resources on campus, online, and within our community. While this may seem overwhelming at first, your confidence and ability to navigate campus successfully will increase with persistence. Please take the time to familiarize yourself with every part of the college. Don't wait until you are ready to graduate to find out there was a Digital Print Center (or a MakerSpace or a Student Organization) you needed the whole time!
We encourage you to check the Engage Columbia Portal for the most up-to-date information. If you have any questions about this handbook or the content within, please contact Student Affairs at 312-369-7221.
---
PHONE NUMBERS
911 - Emergencies requiring Police, Fire, or Medical Services

Columbia College Chicago's 24/7/365 Security Command Center
(312) 369-1111 Columbia Emergency Line
(312) 369-3220 Columbia Non-Emergency Line
| | |
| --- | --- |
| ACADEMIC CENTER FOR TUTORING | 312-369-8130 |
| ACADEMIC SERVICES | 312-369-7645 |
| BOOKSTORE | 312-369-7405 |
| CAMPUS CARD | 312-369-7140 |
| CAREER CENTER | 312-369-7280 |
| COLUMBIA CENTRAL | 312-369-7140 |
| COUNSELING SERVICES | 312-369-8700 |
| DEAN OF STUDENTS | 312-369-8595 |
| HEALTH CENTER | 312-369-6830 |
| INFORMATION TECHNOLOGY | 312-369-7001 |
| LIBRARY | 312-369-7900 |
| HOUSING & RESIDENTIAL EXPERIENCE | 312-369-7803 |
| SERVICES FOR STUDENTS WITH DISABILITIES | 312-369-8296 |
| STUDENT CENTER | 312-369-8000 |
| SWITCHBOARD | 312-369-1000 |
---
DIRECTORY
The directory offers a complete list of current Columbia phone numbers searchable by office, department, or name.
---
HELPFUL WEB SITES